Ren Zhenhe, deputy secretary of the CPC Jiangsu Provincial Committee, urged the province to make more efforts for the modernization drive in the rural areas by following General Secretary Xi Jinping's important speeches and boosting the urban-rural development by integrating the primary, secondary and tertiary industries.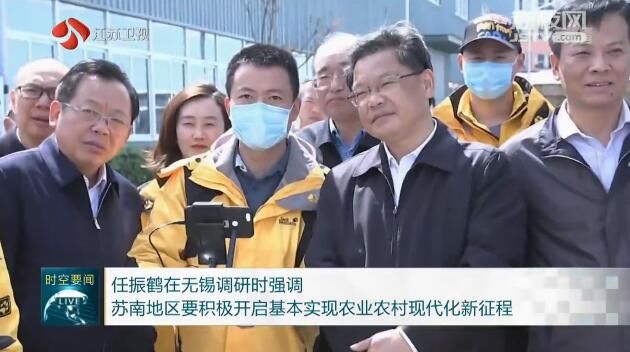 When inspecting the Amway (China) Botanical R&D Center, Ren Zhenhe encouraged the company to increase its scientific and technological research and development, strengthen the construction of science and education display platforms, and accelerate the development of related industries.
During his visit to Wuxi Hanhe Aviation Technology Co., Ltd., Ren asked about the operation of developing agricultural plant protection drones. He hoped that the enterprise would strengthen its cooperation with other service providers, actively expand markets and services, and play a better role in the field of agricultural plant protection.
When visiting the Yixing Modern Agricultural Industry Demonstration Zone, the Deputy Secretary of the Provincial Party Committee asked the local government to adhere to the integrated development of the primary, secondary, and tertiary industries, and to coordinate the planting of distinctive crops, rice processing, rural tourism, and agricultural production services.
During his tour in Yixing, Ren Zhenhe spoke highly of the practice of Baita Village and Provincial Zhuang Village to develop rural tourism and enrich farmers by giving full play to their ecological advantages.
Ren Zhenhe emphasized that the Southern Jiangsu regions must strengthen its mission and innovation consciousness, accelerate the establishment of institutional mechanisms and policy systems for industrial integration and urban-rural integration development, explore a long-term mechanism to alleviate poverty and take the lead in providing demonstrations in agricultural and rural modernization.
(Source:ourjiangsu.com)